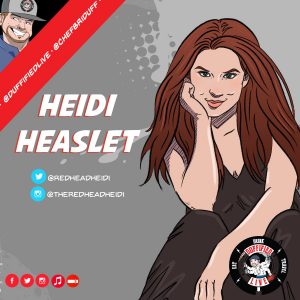 Actress, comedienne, ginger, host, and badass. Yup. That's what I said. Heidi Heaslet is a badass! I had a great conversation with this Cali girl who has worked her butt off to make a name for herself in a crazy industry.
Heidi and Chef Brian Duffy discuss her newest series on E! called "The Funny Dance Show," produced by the duo at ugly Bro Studios (I know a little about those guys…..they are my brothers), her career, her new apartment that has a full kitchen, and even some things that she needs to have in the kitchen. We also get into the spirituality of being nice to people and working hard as well as a few quick chats about bourbon, whiskey, and the occasional Jack and Coke.
She's a Los Angeles-based actress and comic who was series regular on DirectTV's "#Millennials", a comedic personality on the platform "All Def Digital," and recently appeared in the feature film "Big Bear" on Netflix.
In 2019, be on the lookout for "The Funny Dance Show" coming to the E! Network, where she is an executive producer and show host.
Make sure to follow her on Instagram and Twitter!
Follow Chef Brian Duffy on Twitter and on Facebook.
Check out his website to learn more about him, to find his products, and some incredible recipes!
Subscribe to the show on iTunes and Stitcher and don't forget to rate and review the show.
Podcast: Play in new window | Download | Embed