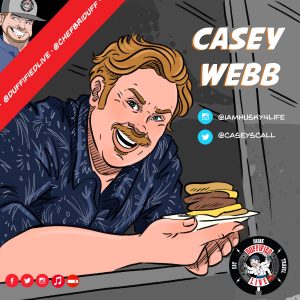 I love an iconic show and something that stands up to the test of time. Casey Webb has taken on the iconic role as the host for Travel Channel's "Man v. Food." You know the concept: Check out three spots around the country. Then, at the last one, he takes the challenge. Will he do it? Will he finish the old 96er? Can he eat that six pound burrito? Well, we don't really get into all of that but we do discuss the Man of "Man v. Food."
He is a Jersey guy who is true East Coast, love of family, food, and an experience. We could have talked all day if his manager didn't cut our bro-fest short! This is a great episode of two guys talking about great food cities, great experiences, Harley Davidson rides, and meeting amazing people on the road.
Casey Webb is a food lover, actor and restaurant business veteran. Since the age of 15, Webb has worked in kitchens, tended bar, and managed restaurants on the Jersey Shore. Beginning in August 2017, his culinary interests will lead him on his greatest adventure yet — a role as the new host of popular Travel Channel series, "Man v. Food." Network fans will see Webb take on legendary eating challenges and continue the quest to find America's most delicious, unique eats. He'll be on the road in search of hometown hot spots with the spiciest, largest and most amazing dishes on their menus.
Webb grew up in Little Silver, NJ. He moved to New York where he works as an actor and comedian. His acting and voice over work have been featured in several national commercials and series including "Boardwalk Empire" and "Inside Amy Schumer." He is also a proud member of The Collective and The Actors Theater of New York. In 2018, Webb won 'Best Host – Reality/Food' in the Cynopsis TV Awards for "Man v. Food."
Webb currently resides in Brooklyn, N.Y.
Make sure to follow him on Instagram and Twitter!
Follow Chef Brian Duffy on Twitter and on Facebook.
Check out his website to learn more about him, to find his products, and some incredible recipes!
Subscribe to the show on iTunes and Stitcher and don't forget to rate and review the show.
Podcast: Play in new window | Download | Embed