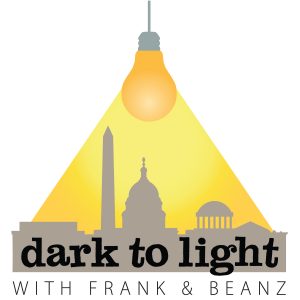 On today's episode of "Dark to Light," Frank and Beanz are joined by a special guest who is home from school for the day because she ate a hot sausage that caused an outbreak, and they get right down to business. The frustration is palpable. They talk in depth about the rampant election fraud plaguing our great nation right now, and the horrific political climate we find ourselves in. With elections in jeopardy from outright THEFT in several states, including Florida, Georgia, South Carolina and Arizona, Frank and Beanz let their feelings be known. There's no holding back in this one.
Next, they speak about our new Attorney General, Matthew Whitaker, and Beanz goes through some of the background on him. It is clear the gloves are off as we move into the second half of President Donald Trump's term, and there are signs everywhere that declassification and accountability will be at the forefront.
They couldn't end the show without some discussion about "journa".. we mean ACTIVISM taking the stage, and they discuss Acosta and the mockery he makes of the profession, decorum in front of a President, and all of the other news surrounding it.
It is a fiery show, with some comic relief mixed in and you don't want to miss it!
LINKS WE COVERED
Tracy Beanz shares where Helga was born
Tracy Beanz's Thread on Matthew Whitaker
Tracy Beanz Video on Matthew Whitaker
Make sure to check out Dark To Light's newest sponsor, SurfShark. In 2018, online privacy and security issues are huge concerns for most of us. The government isn't going to do much about it. It's time to take matters into your own hands. One of the easiest ways to protect your whole family online is getting a VPN or a Virtual Private Network. But first, you have to get a trustworthy provider. SurfShark has an amazing Black Friday deal, and just for $1.99/mo per month, you can get a VPN that doesn't log your online activities connecting all your family devices to one account. Use the code BFFDARKTOLIGHT and get Surfshark.com for just $1.99/mo for your entire family!
Follow Tracy Beanz on Twitter and subscribe to her YouTube channel!
Follow Frank on Twitter, subscribe to his YouTube channel, and follow his solo podcast, Quite Frankly!
Subscribe to Dark To Light With Frank & Beanz on Apple Podcasts, Stitcher, TuneIn Radio, and Google Play!
Podcast: Play in new window | Download | Embed