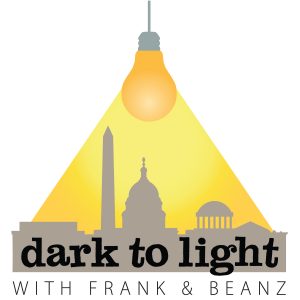 On today's episode of "Dark to Light" Frank and Beanz are back, and after some friendly sports banter, they talk about what has been newly revealed this week in regards to the case of Judge Brett Kavanaugh. New allegations have emerged out of the FBI Background Investigation and they have to do with Dr. Christine Ford's ex boyfriend, a former FBI Agent, and witness tampering in regards to Ford's childhood friend, Leland. Did this former FBI Agent have a connection to the Weiner laptop and Hillary email investigation?
They dive into the doxxing of the Republican senators and what the motivation and cause of it may have been while they discuss the impending vote and their predictions on the outcome. In addition, what clues may lie in the letters from Chuck Grassley? They discuss what that may mean.
Next, they move to newly reported "Spygate" news and chat about what former FBI Counsel James Baker may have said to Congress. Frank and Beanz discuss Mark Meadows statements
on the Hill, how Baker testified in a closed door hearing that members of the Trump campaign were digitally recorded, and how Baker admitted that "odd" things happened
throughout the "Spygate" investigation.
Then, the team move on to the new piece in The Hill written by Jon Solomon asking that the President include Uranium One documents in
his declassification order. It's an interesting piece for sure.
Buckle up tight! You don't want to miss this analysis heavy edition of the "Dark to Light Podcast"!!
If you enjoy the show and want to support it, make sure to check out our sponsors:
This episode of Dark To Light With Frank & Beanz is brought to you by Vivid Seats. Vivid Seats is an online event ticket marketplace dedicated to providing fans of live entertainment with experiences that last a lifetime. Go to the App Store or Google Play and download the Vivid Seats app. Enter promo code INFLUENCE to receive 10% off your first purchase with Vivid Seats.
Follow Tracy Beanz on Twitter and subscribe to her YouTube channel!
Follow Frank on Twitter, subscribe to his YouTube channel, and follow his solo podcast, Quite Frankly!
Subscribe to Dark To Light With Frank & Beanz on Apple Podcasts, Stitcher, TuneIn Radio, and Google Play!
Podcast: Play in new window | Download | Embed