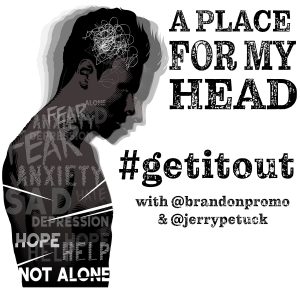 This week on A Place For My Head, Brandon Thompson and Jerry Petuck are joined by Shawn Lopez, a five year veteran of the US Marine Corps and Purple Heart recipient.
Shawn did tours in both Afghanistan and Iraq and shares his struggles of dealing with the loss of another Marine during combat, surviving an IED attack himself and overcoming the physical injuries and the survivor's guilt that he dealt with for years. Also, he talks about his decision to go into the Marines, the help that the VA gives veterans, the importance of veterans to not shy away from getting help themselves for mental health struggles, and so much more.
This is one of the most important episodes of the podcast we've had so far. The fact that Shawn's so open and honest about his own story in an attempt to help others truly makes him an inspiration and a truly remarkable person.
Make sure to check out Shawn's podcast, As You Were, that focuses on post-military life and soldiers transitioning to civilian life.
Thanks for listening!
If you feel you are in crisis, please call the National Suicide Prevention Lifeline at 1.800.273.TALK (8255).
Follow us on social media:
A Place For My Head: Website Facebook
Brandon Thompson: Facebook Instagram Twitter
Jerry Petuck: Facebook Instagram Twitter
Make sure to visit the A Place For My Head website!
Subscribe, rate, and review A Place For My Head on Radio Influence, Apple Podcasts, Stitcher, TuneIn Radio, Google Podcasts, iHeartRadio, and now on Spotify!
Podcast: Play in new window | Download | Embed