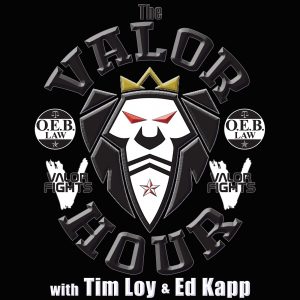 This week on The Valor Hour presented by O.E.B Law, Valor Fights President Tim Loy is joined by Mark Laws and fight judge Justin Watson to recap last weekend's UFC Fight Night 135 event in Lincoln, NE that saw Justin Gaethje knock out James Vick. The guys share their thoughts on the entire card.
Then, "King" Robert Hale joins the show to discuss his fight tonight in Atlantic City for PFL against Ramazan Kuramagomedov, who hasn't lost a fight in three years. Hale says that it's a good thing he's always ready because he took this fight on just two weeks notice. He also talks about training for the fight, being very happy that the fight is at 170 lbs, keeping the fight on his feet as opposed to Kuramagomedov's grappling style, how great his experience with PFL has been, and so much more.
Finally, the guys chat with "The Shanimal" Shanna Young. She's battling Lisa Spangler at Invicta FC 31 Saturday night. Young is coming off a two year layoff after having surgery to repair a torn labrum in her hip. She says she's coming back a changed fighter in spite of not really changing much training wise, his some kind words for Spangler, talks about her expectations, the change in her opponent in this fight, not being concerned about being rusty, and more.
Subscribe to The Valor Hour on Apple Podcasts, Stitcher, TuneIn Radio, and Google Play
Podcast: Play in new window | Download | Embed