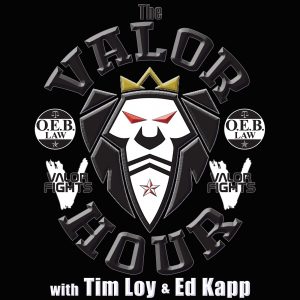 This week on The Valor Hour presented by O.E.B Law, Valor Fights President Tim Loy is joined by Mark Laws and fight judge Justin Watson to recap the Valor Fights 52 card at The Shed in Maryville, TN last Friday night. Watson was also a judge for the event so he provides an interesting perspective on what went down.
The guys open the show looking forward to this weekend's UFC Fight Night 135 at the Pinnacle Bank Arena in Lincoln, Nebraska. They preview the lightweight main event between Justin Gaethje and James Vick as well as the featherweight bout between Andre Fili and Michael Johnson.
Case Looper, fresh off his win at Valor Fights 52 over Andrew Sturdivant by split decision, talks about the last minute change to his fight and the changes he went through cutting weight and then putting some back on, getting into MMA after high school, being nervous about fighting Sturdivant, originally thinking he lost the fight, and more.
After their chat with Looper, the guys give their thoughts on the entire fight card of Valor Fights 52.
Here are the results:
Blake Randall knocked off Wes Sexton (Muay Thai)
John Codeville over Payton Hughes (Split Decision)
Cody Linder over Jonathan Romines (Unanimous Decision)
Christian Bradbury over Greg Cook – Muay Thai (Unanimous Decision)
Case Looper over Andrew Sturdivant (Split Decision)
Nick Wigly over Bud Cook on short notice (TKO)
Emory Norred over Joe Booher (TKO – Head Kick)
Travis Chitwood, who replaced Kevin Dyke due to injury, in a Muay Thai fight over Timothy Blevins (KO Of The Night)
Taylor Wilson over Steven Tanner in a big upset (Submission)
Rodrigo Martinez over Joseph James Arden in a middleweight slug fest in the Fight Of The Night (Submission)
Tevin Brown over Fred Harvey (TKO)
Co-Main Event: Caleb Miller over Logan Crawley to become the Lightweight Division's #1 Contender (Decision)
Main Event: Charles Philpot becomes the first ever Valor Fights Cruiserweight Championship over Chad Finnerty (Unanimous Decision)
Subscribe to The Valor Hour on Apple Podcasts, Stitcher, TuneIn Radio, and Google Play
Podcast: Play in new window | Download | Embed