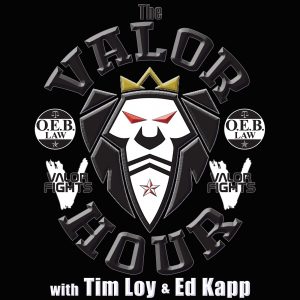 This week on The Valor Hour presented by O.E.B Law, Valor Fights President Tim Loy and Ed Kapp are joined by Billy Swanson and Mark Laws to preview the Valor Fights 52 card at The Shed in Maryville, TN Friday night, August 17.
Before the guys get to their Picks Panel, Tim and Ed are joined by undefeated amateur lightweight Caleb Miller, who fights out of KMAA. He's fighting in the co-main event of Friday night's card against Logan Crawley. Miller talks about preparing for the fight, how he's more comfortable fighting from the ground, who he's training with, feeling great at 155 lbs., and more.
After the conversation with Miller, the guys sit down for their Picks Panel and preview each of Friday night's fights.
Here's the card:
Main Event
Chad Finnerty vs Charles Philpot (Valor Fights Cruiserweight Championship)
Caleb Miller vs Logan Crawley
Tevin Brown vs Fred Harvey
Rodrigo Martinez vs James Arden
Steven Tanner vs Taylor Wilson
Kevin Dyke vs Timothy Blevins
Case Looper vs Andrew Sturduvant
Joe Booher vs Emory Norred
Nick Wigley vs Bud Cook
Jonathan Romines vs Cody Linder
Christian Bradbury vs Greg Cook
Payton Hughes vs John Codeville
Blake Randall vs Wes Sexton
Subscribe to The Valor Hour on Apple Podcasts, Stitcher, TuneIn Radio, and Google Play
Podcast: Play in new window | Download | Embed