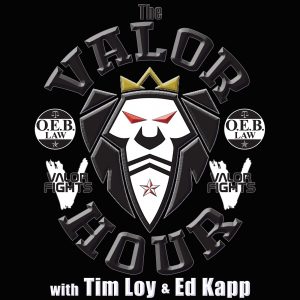 This week on The Valor Hour presented by O.E.B Law, Valor Fights President Tim Loy, Ed Kapp, and Mark Laws open the show recapping last weekend's UFC 227 main event between T.J. Dillashaw and Cody Garbrandt and looking ahead to the upcoming action in Nashville with M1 Global USA, NFC 110 in Atlanta, the Premiere Fighting Championship in Covington, KY, and of course, Valor Fights 52 at The Shed in Maryville, TN on Friday night, August 17th.
The guys then chat with Dustin Koppel about National Top Roller 8 at Ridgeland High School in Rossville, GA this weekend. They preview the card, the big main event of Joe Baize and Breck Still, the Adam Fritz/Sterling Peace match, the future of National Top Roller, and more.
Then, the guys talk to Tevin Brown, who is coming off of a "Fight Of The Night" decision victory at Valor Fights 49 over Trevor Peek. He talks about his upcoming battle with newcomer Fred Harvey at Valor Fights 52 and what his expectations are, how his training is going, his uncle Rampage Jackson and the advice Jackson has given him, and so much more.
Subscribe to The Valor Hour on Apple Podcasts, Stitcher, TuneIn Radio, and Google Play
Podcast: Play in new window | Download | Embed