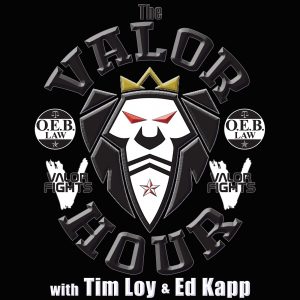 This week on The Valor Hour presented by O.E.B Law, Valor Fights President Tim Loy and Ed Kapp are joined by Mark Laws to talk about Valor Fights 52 coming up in two weeks.
Before the guys get to this week's interviews, they answer your questions about the main event of UFC 227 this weekend, whether or not 12-6 elbows should allowed in the sport, and whether people who have violent crimes in their past should be allowed to compete.
The first guest this week is Chad Finnerty, who is battling Charles Philpot in the main event of Valor Fights 52 for the Cruiserweight Championship. The guys discuss his last fight, which occurred at the Alabama Fighting Championship, going back to the basics when it comes to training for this fight, the big difference between MMA and his collegiate wrestling past, and he said that he wants to make sure he comes in ready because he wants to give everyone a show.
Next, the guys chat with Diego Bautista, who is making his MMA debut after 12 amateur fights at NFC 110 in a bantamweight fight against Jose Medrano. Bautista said that Medrano is the perfect opponent for his debut because he wanted to battle with someone with a good pro career for themselves. He said that the biggest change in his training regiment has been sparring in the cage but outside of that, it's been pretty much business as usual.
Finally, the guys sit down with the other half of the main event for Valor Fights 52, Charles Philpot. He's coming off of a submission victory over Cal Gill in his last fight and talks about the quick turnaround between that fight and this one. Philpot discusses what weight class he's most comfortable at, what Chad Finnerty brings to the table, and getting to fight in a main event so early in his career.
All of that and so much more on this week's episode of The Valor Hour!
Subscribe to The Valor Hour on Apple Podcasts, Stitcher, TuneIn Radio, and Google Play
Podcast: Play in new window | Download | Embed