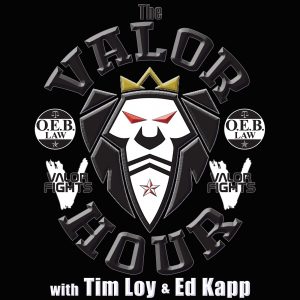 This week on The Valor Hour presented by O.E.B Law, Valor Fights President Tim Loy and Ed Kapp are joined by Allan Poole, Mark Laws, Jeff Hobbs, Sawyer Rich and Billy Swanson to preview Saturday's Valor Fights 51.
Before Tim and Ed are joined by the picks panel to preview Saturday's event that will be streamed on FloCombat, Tim answers listener questions submitted on the Valor Fights social media channels.
Following the Q&A session, Shamir Peshewa joins the show to discuss making her cage announcing debut on Saturday. Along with talking about her cage announcing debut at Valor Fights 51, Shamir gives an update on her fighting career.
Up next, Bubby Mitchell comes joins the guys to discuss Saturday's Valor Fights 51 as he will join Vince Ferrera for the calling of the play-by-play action on FloCombat. In addition to talking about the fights, Bubby talks about fighters he's working with including Chase Boutwell.
Then it's on to the official Valor Fights 51 preview, brought to you buy National Top Roller. Tim and Ed bring in the picks panel (Allan, Mark, Jeff, Sawyer and Billy) to go through all of the fights that will be taking place on Saturday in Johnson City, Tennessee and they tell you who they think will walk away with victories at Valor Fights 51.
Subscribe to The Valor Hour on Apple Podcasts, Stitcher, TuneIn Radio, and Google Play
Podcast: Play in new window | Download | Embed