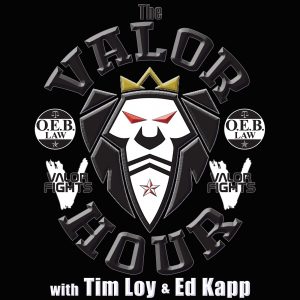 This week on The Valor Hour, Valor Fights President Tim Loy is joined by Ed Kapp, Mark Laws, and Allan Poole to answer your listener questions about UFC 226, Daniel Cormier, and more. Plus, they have interviews with Chad Finnerty, Trevor Peak, Greg Hopkins, Rodrigo Gonzalez, and Adam Townsend.
The guys kick off the show by answering your questions about Adam Townsend's long awaited return to Valor Fights for the Valor Fights 51 event coming up on July 21 and transition to UFC 226 and Daniel Cormier's win over Stipe Miocic. The question posed is Daniel Cormier's status among the greatest of all time of UFC fighters and his upcoming fight against Brock Lesnar is discussed.
First up, the guys are joined by newcomer Chad Finnerty. He's making his MMA debut this weekend at the Alabama Fighting Championships 1 against the brawler Trent Anderson. If you aren't familiar with Finnerty, he comes from a wrestling background where he finished his collegiate career at Purdue with a 192-8 record. He talks about the differences in training for MMA as opposed to college wrestling. He also discusses working with Sam McAlpin, John Fitch, and Trevor Peak.
Speaking of Peak, he joins the guys next along with Greg Hopkins, his opponent in the main event of the Alabama Fighting Championships 1. The guys are fighting at 170 pounds and each showed a mutual respect for each other. Hopkins has been impressed by Peak's career and said he easily could be undefeated while Peak said that Hopkins has some pretty heavy hands but he's never been in the cage with anyone quite like him before.
Then, Rodrigo "The Monster" Gonzalez checks in to discuss the change in his fight coming up at Valor Fights 51. Originally slated to battle Chase Wender, he's now facing Paul Occhino in a total clash of styles Wender. Occhino is much more of a scrapper than Wender. Gonzalez talks about how his training has gone, having to change his gameplan so late in the process, having to go up a weight class to fight Occhino instead of Wender, and much more.
Finally, "Prime Time" Adam Townsend touches base with the boys to talk about his return to Valor Fights. He said he's stoked to be back fighting for the local crowd again and looks forward to showing some of the new blood that has come in just who he is. At Valor Fights 51, he's making his Muay Thai debut against Justin Hatcher fighting at 185 pounds. Townsend shares where his favorite and least favorite places to fight overseas were, the weight he's most comfortable fighting at, expectations for his July 21 fight, and more.
Subscribe to The Valor Hour on Apple Podcasts, Stitcher, TuneIn Radio, and Google Play
Podcast: Play in new window | Download | Embed