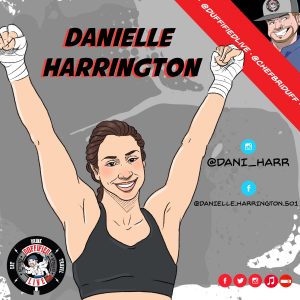 This chick…. Such a wonderful person! I have followed Danielle Harrington on Instagram for a while now and have watched someone transform themselves into a walking machine. Her drive to get into the ring after so much adversity has propelled her to a super comfortable place in her world. While managing a Tiger Schulman studio with her boyfriend as the owner of the gym, she made a decision to take things to the next level and start training for one of their competitions, literally shedding weight and building a body of which could handle multiple kicks and punches while at the same time retraining the brain to think & train like a fighter.
This is a great episode with a woman to watch. Will she move further along in the ring or was it a milestone that she no longer feels the need to reach for?
Follow Chef Brian Duffy on Twitter and on Facebook.
Check out his website to learn more about him, to find his products, and some incredible recipes!
Listen to the Duffified Live show archive on Radio Influence! Subscribe to the show on Apple Podcasts, Stitcher, TuneIn Radio, and now on Google Play and make sure to rate and review!
Podcast: Play in new window | Download | Embed