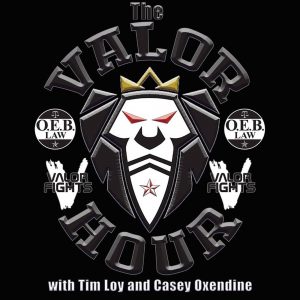 Get a recap of last week's Strikefest 4 on this week's episode of The Valor Hour, plus the guys are joined by The Ultimate Fighter 27 contestant Luis Pena.
Before they get to the Strikefest 4 Recap and the interview with Pena, Casey Oxendine gets the show started by getting into the weekly Q&A segment as Valor Fights President Tim Loy answers listener submitted questions.
Up next is the interview with Pena (5:04), who was part of Team Cormier on the current season of The Ultimate Fighter. He talks about his experience on the show and what's happened so far this season.
Following the conversation with Pena, the interviews roll on as the guys chat with Strikefest 4 winning fighters David Robins (16:28), Andrew Graves (22:47), and Aaron Phillips (28:42). After those interviews, Billy Swanson and Mark Laws join Tim and Casey to recap everything that happened last weekend in Johnson City, Tennessee at Strikefest 4.
Thanks for listening and we would appreciate if you would like, and share the podcast with your friends.
Subscribe to The Valor Hour on Apple Podcasts, Stitcher, and Google Play
Podcast: Play in new window | Download | Embed