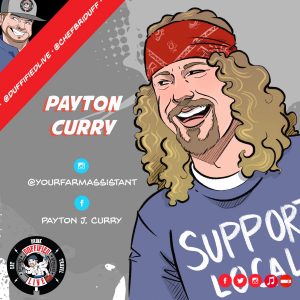 Chef Brian Duffy has an impromptu chat about WEED! To further educate himself about something that is such a hot topic, a lifestyle & a political maneuver, CBD takes it upon himself to learn as much as possible on the subject & to do that he must immerse himself in in all the details
Chef Payton Curry, the founder, chef, and creator of Flourish Cannabis, an edible company with ties to California and Arizona, has been diving into the spiritual and culinary side of cannabis. Starting cooking at the age of 14, he's worked tirelessly to hone his craft and spent years perfecting using cannabis cuisine.
Payton is now in the thick of it, only this time he's on the forefront of a revolution where entrepreneurs are vying for top spots in the world of cannabis. As a creator and manufacturer of edibles and edible meals, Payton is making huge strides and changing the minds of those who doubted that we would ever see a day where you can walk in, sit down and eat an intelligently & passionately crafted meal that has all the healing and benefits of edible marijuana.
Listen to this episode while you're pondering your next move and even if you don't agree with the movement of legalizing marijuana and the entrepreneurial ways in which it will be making a mark on our lives & economy, realize that there are healing powers in the plant.
This episode of Duffified Live is brought to you by Audible. Audible is offering Duffified Live listeners a free audiobook with a 30 day trial membership. Just visit audible.com/chef and browse the unmatched selection of audiobooks, original audio shows, news, comedy, and more from leading audiobook publishers, broadcasters, entertainers, magazines, newspapers, and business information providers. You can download a title free and start listening now. It's that simple. Go to Audible online or text "Chef" to 500-500 to get started.
Follow Chef Brian Duffy on Twitter and on Facebook.
Check out his website to learn more about him, to find his products, and some incredible recipes!
Listen to the Duffified Live show archive on Radio Influence! Subscribe to the show on Apple Podcasts, Stitcher, TuneIn Radio, and now on Google Play and make sure to rate and review!
Podcast: Play in new window | Download | Embed