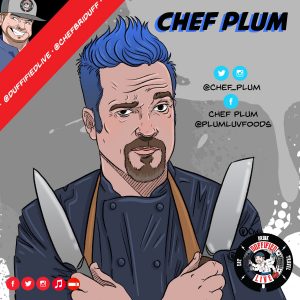 Chefs Like to hang out with other chefs. It's just the way of the world. When we get together, we just start shooting the shit! Lets chat about where we started, where we came from, and where we are now! How did we get here and what drives a chef to make the move from the kitchen to the screen or to a point of consulting?
Based in Connecticut, Chef Plum is all about simple easy farm foods and he believes that food just doesn't need any gimmicks. He's done TV, radio, and also has his own podcast called "Plumluvfoods Live."
Chef Plum and Chef Brian Duffy may as well have known each other for years because the conversation spans about 90 minutes of great war stories, anecdotes about the industry today, and the direction of where its going.
Follow Chef Brian Duffy on Twitter and on Facebook.
Check out his website to learn more about him, to find his products, and some incredible recipes!
Listen to the Duffified Live show archive on Radio Influence! Subscribe to the show on Apple Podcasts, Stitcher, TuneIn Radio, and now on Google Play and make sure to rate and review!
Podcast: Play in new window | Download | Embed