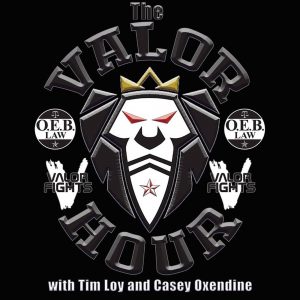 The Monster Energy Bellator MMA Fight Series will hit Atlanta this weekend and NFC Fight Night CEO David Oblas joins the Valor Hour crew to preview the fights that will be part of the Monster Energy Supercross event.
Now before they bring in David to preview those fights, they get the podcast started by recapping what took place last weekend at UFC on FOX 28 in Orlando. The panel gives their take on how the matchup between Jeremy Stephens and Josh Emmett ended, Jessica Andrade making her claim as the number one contender in the UFC women's strawweight division, and Ovince Saint Preux falling short against Ilir Latifi.
After discussing those fights, they turn their attention to this weekend's UFC 222, which will be headlined by Cris "Cyborg" Justino defending the UFC women's featherweight title against Yana Kunitskaya. Casey and Tim discuss the fight card and find out if Tim plans to purchase this pay-per-view. Then it's one to the weekly Q&A segment as Tim answers listener questions and one of the questions was about an under the radar fight at Valor Fights 48.
Following the Q&A segment, Oblas (22:54) joins the show to discuss the Monster Energy Bellator MMA Fight Series fight card. Oblas is working with Bellator to put on this fight card and he gives insight into the four fights that are scheduled to take place on Saturday in Atlanta. Up next, they switch their attention to next week's Strikefest 3 as they are joined by Julius Bowling, Caleb Miller, and Dustin Long. Bowling (36:39) previews his matchup against Logan Crowley, Miller (43:50) talks about his fight against Bud Cook, and Long (50:51) previews the entire fight card as he's the promoter of this event.
Then it's on to the main event of the fight card as the guys discuss the death of amateur boxer Tanner Wray, who was competing last weekend at the Ace Miller Memorial Boxing Tournament at the Knoxville Expo Center. According to the Knoxville Police Department, Wray collapsed around 9:26 p.m. and was taken to University of Tennessee Medical Center where he was pronounced dead on arrival. The crew talks about this entire situation and what can be done to help prevent this from happening again.
Thanks for listening and we would appreciate if you would like, and share the podcast with your friends.
Subscribe to The Valor Hour on Apple Podcasts, Stitcher, and Google Play
Podcast: Play in new window | Download | Embed