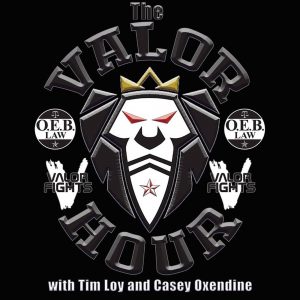 This week on The Valor Hour, Tim and Casey are joined by special guest co-hosts Allan Poole, Jeff Hobbs, Mark Laws, and Sawyer Rich to discuss the what's going on in the MMA. Plus, they have a conversation with The MMA Lab head coach John Crouch about his fight team among other topics.
They kick off this week's podcast by taking a look back at what happened last weekend in Australia at UFC 221. The guys offer up their thoughts on Yoel Romero's TKO victory over Luke Rockhold in the main event and Mark Hunt falling short against Curtis Blaydes in the co-main event of the fight card.
After recapping what they saw at UFC 221, they look ahead to this weekend's fights as the UFC and Bellator will both be holding events. The Bellator event will take place on Friday night and the UFC card will take place on Sunday. Find out what they think about these fights and then listen to Tim answer listener submitted questions, plus he gives you an update on the upcoming Valor Fights card that will take place in Nashville.
Up next is their interview with The MMA Lab head coach John Crouch. Some of the topics that they discuss with Crouch during his appearance on the show include the new facility that The MMA Lab just moved into, how Crouch met Ed O'Neil, the upcoming UFC card in Arizona, and how Crouch nearly moved to Tennessee. Then it's on to the main event of the podcast as the guys discuss three hot topics in MMA: UFC television ratings last weekend, potential of Floyd Mayweather vs. CM Punk in the UFC, and Chuck Liddell's appearance on Big Brother.
Thanks for listening and we would appreciate if you would like, and share the podcast with your friends.
Subscribe to The Valor Hour on Apple Podcasts, Stitcher, and Google Play
Podcast: Play in new window | Download | Embed