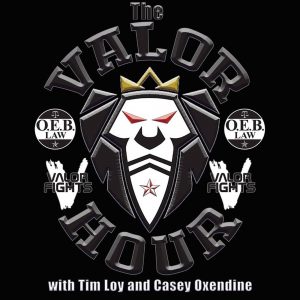 This week on The Valor Hour, Tim and Casey are joined by Sawyer Rich and Allan Poole to discuss the latest news in MMA. In addition to discussing the news, the guys have conversations with UFC bantamweight Cody Stamann and amateur heavyweight CJ Baker.
They start off the podcast by taking a look back at what happened last weekend at UFC Fight Night 124 and let you know if there was anything on the card that surprised them. Then, they preview this weekend's MMA as UFC 220 and Bellator 192 will take place on Saturday. They discuss the top fights from both cards and give their picks for the notable fights.
Up next is the weekly Q&A segment as Tim answers listener questions submitted on social media. Then it's on to the interview portion of the podcast and up first was Stamann (24:12) to preview his fight at the beginning of March at UFC 222 against Bryan Caraway. Stamann discussed his preparations for the fight and if he's concerned about Caraway not making it to fight night. And in the other interview on this week's podcast, Baker (31:35) comes on to discuss his fight in a couple of weeks at Border Wars 2 against Randall Ross. Along with previewing his fight against Ross, Baker talks about his victory in his amateur debut at Valor Fights 47.
Thanks for listening and we would appreciate if you would like, and share the podcast with your friends.
Subscribe to The Valor Hour on Apple Podcasts, Stitcher, and Google Play
Podcast: Play in new window | Download | Embed