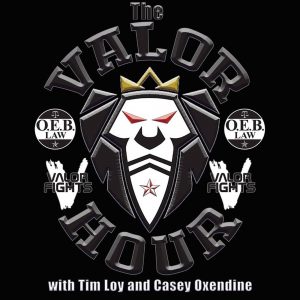 This week on The Valor Hour, Tim Loy and Casey Oxendine get you ready for Saturday's Valor Fights 47 and one of the interviews on this week's podcast is with Glenn Jacobs, aka Kane of the WWE.
Now before the guys speak with Jacobs, they bring in Vince Ferrara and Allan Poole to recap what happened last weekend at UFC 219. They touch on Cris "Cyborg" Justino's win in the main event to retain the UFC women's featherweight title and the dominating victory by Khabib Nurmagomedov in the co-main event of the fight card.
After discussing last weekend's UFC 219 fight card, it's on to the interview portion of the podcast and up first is Jacobs (8:40) to talk about running for public office in Tennessee this year. Along with discussing his decision to run for office, Jacobs talks about being a friend of Valor Fights 47 fighter Shamir Peshewa and the similarities between the fan base of professional wrestling and mixed martial arts.
Then the guys are joined by a trio of fighters that will be competing on Saturday night at Valor Fights 47 in Knoxville. Up first is one of the men in the main event as they chat with Steven Haag (21:00) about his fight against Jason King. Up next, they are joined by Keith Olson (27:36) to preview his fight in the co-main event of the fight card, and the final interview is with Fotini Kandris (34:43) to discuss her fight against Yeinssy Alcantara.
Following those interviews, the guys welcome in Mark Laws, Sawyer Rich, Jeff Hobbs, Chandler Cole, and Roy Sanders for the official Valor Fights 47 preview (42:24) presented by Tennessee Top Roller. Get a complete breakdown of the fight card that will take place on Saturday from the Knoxville Civic Auditorium-Coliseum and find out who Mark, Sawyer, Jeff, Chandler, Roy, and Allan pick to win the fights.
Thanks for listening and we would appreciate if you would like, and share the podcast with your friends.
Subscribe to The Valor Hour on Apple Podcasts, Stitcher, and Google Play
Podcast: Play in new window | Download | Embed