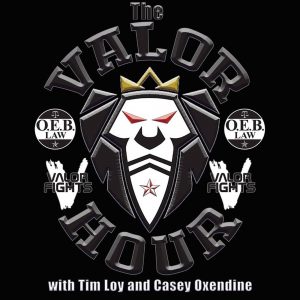 This week on The Valor Hour, Tim Loy and Casey Oxendine are joined by guest co-host Sawyer Rich and Allan Poole to preview this weekend's UFC 219 and they bring in Roy Sanders to go through the Valor Fights Year End Award Nominations.
Up first on this week's podcast is the preview of Saturday's UFC 219, which will be headlined by a title fight as Cris "Cyborg" Justino will defend the UFC women's featherweight title against former UFC bantamweight champion Holly Holm. Tim, Casey, Sawyer, and Allan preview the fights that will be part of the main card on pay-per-view.
Then it's on to the weekly Q&A segment as Tim answers questions submitted to the podcast on the various Valor Fights social media accounts. The questions this week range from UFC 219 to the upcoming Valor Fights 47. And speaking of Valor Fights 47, the guys speak with four fighters that will be on next week's fight card in Knoxville, Tennessee.
The first Valor Fights 47 interview on this week's podcast is with James Conway (13:50), who previews his fight against Jordan Weeks. Following the conversation with Conway, they bring in Weeks (21:27) to get his side of his fight against Conway. Then, they are joined by Alex Riggs (28:38) to preview his fight against Keith Olson. Then in the final interview, they chat with Jonathan Blackwell (34:08) about his matchup against Tevin Brown.
Then in the final portion of this week's podcast, the guys go down the Valor Fights year end award nominations and voting begins today on the Valor Fights social media platforms. The categories for the year end awards include Amateur Fighter of the Year, Professional Fighter of the Year, Knockout of the Year, Submission of the Year, and Most Improved Fighter.
Thanks for listening and we would appreciate if you would like, and share the podcast with your friends.
Subscribe to The Valor Hour on Apple Podcasts, Stitcher, and Google Play
Podcast: Play in new window | Download | Embed