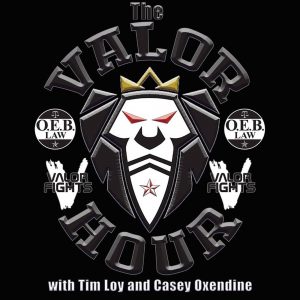 This week on The Valor Hour, Tim Loy and Casey Oxendine get the show started off by looking back at last week's Next Level Fight Club 8 event and look ahead to this weekend's UFC Fight Night 117, which will be headlined by Tennessee based fighter Ovince Saint Preux.
After discussing the UFC fight card, the guys discuss questions submitted by listeners of the podcast. The questions this week range from Saturday's Bellator 183, Bellator's place in the mixed martial arts landscape, Yushin Okami moving up in weight to take on Saint Preux on short notice, and who's the next great fighter to come out of Tennessee.
Then it's on to the interview portion of the podcast as the guys chat with Garry Bell (18:25), Bailey Cooper (28:19), Aubrey Rion (35:26), Zach Sanders (46:00), and Quintezs Sapp (52:22). Following those interviews, the guys bring in Warrior FC President Jimbo Collins (57:39) to preview Warrior FC 137: Showdown, which will be headlined by a heavyweight title fight between Anthony Trotter and Ben Rowland.
Follow Valor Fights on Twitter: @ValorFights
Follow Tim Loy on Twitter: @TzLoy
Follow Casey Oxendine on Twitter: @CaseyOxendine
Subscribe to The Valor Hour on Apple Podcasts, Stitcher, and Google Play
Podcast: Play in new window | Download | Embed