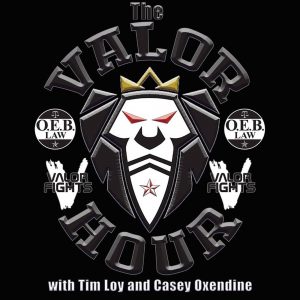 This week on The Valor Hour, Tim Loy and Casey Oxendine are joined by special guest co-host Mark Laws as they kick off the podcast by discussing what happened last week at Conflict 45.
After talking about that fight card, they get into the weekly listener Q&A segment as Casey ask Tim questions submitted by the listeners of the podcast and majority of the questions have to do with next week's Bellator event at the Bristol International Speedway.
Then it's the interview portion of the podcast as the guys have conversations with Nick Gehrts (11:56), Jonathan Pearce (23:48), Preston Schick (30:17), Christina Ricker (37:58), Chris Buttry (46:12), and Garrett Fozdyk (53:48). After those interviews, they are joined by promoter Brandon Watts to preview this weekend's VFW card. They break down all the fights, give their predictions on the fights, and discuss which fights could end up being the Fight of the Night.
Follow Valor Fights on Twitter: @ValorFights
Follow Tim Loy on Twitter: @TzLoy
Follow Casey Oxendine on Twitter: @CaseyOxendine
Subscribe to The Valor Hour on Apple Podcasts, Stitcher, and Google Play
Podcast: Play in new window | Download | Embed