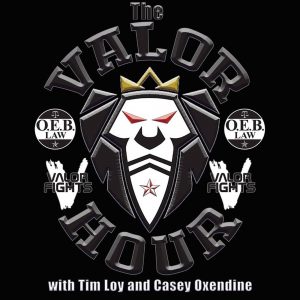 This week on The Valor Hour, Tim Loy and Casey Oxendine are joined by Eric Ellison, Mark Laws, and Allan Poole to get you ready for Saturday's Valor Fights vs. Conflict MMA: When Worlds Collide on FloCombat.
Now before the guys get into Saturday's fight card, they discuss some of the national news including Valor Fights alum Eryk Anders being signed by the UFC to fight on Saturday at UFC on FOX 25 against Rafael Natal on the preliminary card. Also, Tim answers listener questions in the weekly Q&A segment and Eric gives his thoughts on some of the listener questions.
After the Q&A segment, undefeated bantamweight Cole Ferrell (20:00) joins the show to discuss what happened this past weekend and why his fight did not take place. You will not want to miss this interview as Cole does not hold back on the promoter and the fighter he was scheduled to fight. Up next is undefeated heavyweight Chandler Cole (29:55), who will be fighting on Friday's LFA 17 in North Carolina against Tebaris Gordon. He previews his fight that will be part of the main card on AXS TV and he actually did this interview while getting his haircut.
Following their conversation with Cole, the guys turn their attention to Saturday's Valor Fights vs. Conflict MMA: When Worlds Collide as they are joined by Conflict MMA matchmaker Jared Williams (38:22) comes on the show to give his thoughts on Saturday's fight card that will take place in Rome, Georgia. Next, they are joined by Lathon Lawson (48:11), who will be making his professional debut against Yemi Oduwole and in the final interview, they chat with Jason Wolf (57:01) about his fight against Lindsey Jones. Then to wrap up this week's podcast, the guys preview Valor Fights vs. Conflict MMA: When Worlds Collide. They break down the entire fight card and Mark and Allen give their picks for the fights.
Follow Valor Fights on Twitter: @ValorFights
Follow Tim Loy on Twitter: @TzLoy
Follow Casey Oxendine on Twitter: @CaseyOxendine
Subscribe to The Valor Hour on Apple Podcasts, Stitcher, and Google Play
Podcast: Play in new window | Download | Embed