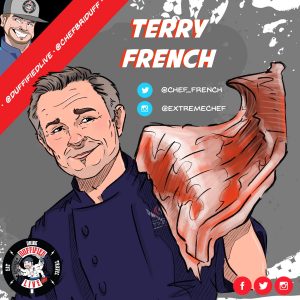 This week, Chef talks about his birthday and the amazing experiences from the day. We're talking zip lining, OG Italian, and so much more!
Also, Chef Duffy has a long chat with extreme chef Terry french, an old school classic guy! Chef French loves his roots from start to finish, including Chinese apprenticeships and the military. Chef Terry French is a badass in the kitchen and he'll will tell you all about it!
IT'S A GREAT CHEF CHAT!
Follow Chef Brian Duffy on Twitter and on Facebook.
Check out his website to learn more about him, to find his products, and some incredible recipes!
Listen to the Duffified Live show archive on Radio Influence!
Subscribe to the show on Apple Podcasts, Stitcher, TuneIn Radio, and now on Google Play and make sure to rate and review!
Podcast: Play in new window | Download | Embed