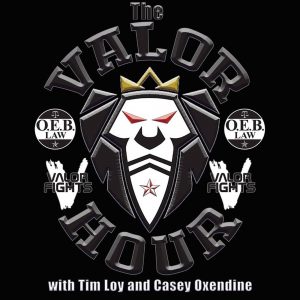 It's International Fight Week for the UFC and before he heads out to Las Vegas, Valor Fights President Tim Loy chats about what's going on in the mixed martial arts community with his Valor Hour co-host Casey Oxendine and they are joined by special guest co-hosts Allan Poole and Mark Laws.
They get the show kicked off by talking about what's going on in Las Vegas for International Fight Week and discuss the fights that will take place inside the T-Mobile Arena on Friday and Saturday night. Plus, they recap last week's Fight Night at The Shed and Tim answers listener questions in the Q&A segment.
Following the Q&A segment, Conflict MMA matchmaker Jared Williams (20:49) comes on the podcast to break some news about a fighter that is stepping up on short notice to fight on the inaugural episode of "Dana White's Tuesday Night Contender Series" on Tuesday in Las Vegas and they talk about the upcoming co-promotion event between Valor Fights and Conflict MMA in Rome, Georgia on July 22.
Then the guys turn their attention to Friday's Strikefest in Johnson City, Tennessee as they are joined by the promoter of the event, Dustin Long (27:16). For those who are not aware, Dustin is a professional mixed martial arts fighter and he's putting on a hybrid event that will see MMA, boxing, and Muay Thai fights. Following their conversation with Long, Mike Thomas (44:16) comes on the show to preview his professional boxing debut on the Strikefest card and talks about his preparations for the fight.
Now before the guys give their full preview of Strikefest (1:12:46), they are joined by the two fighters that will be in the main event of the July 22nd fight card in Rome, Georgia as they talk with Kobe Wall (51:52) and Luis Pena (1:03:51). Both fighter talk about their upcoming bout and what they have been working on in their training camps for this matchup.
Follow Valor Fights on Twitter: @ValorFights
Follow Tim Loy on Twitter: @TzLoy
Follow Casey Oxendine on Twitter: @CaseyOxendine
Subscribe to The Valor Hour on Apple Podcasts, Stitcher, and Google Play
Podcast: Play in new window | Download | Embed