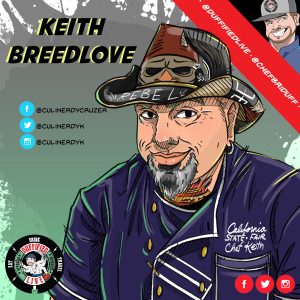 This week, Chef Brian Duffy hooks up with his buddy Chef Keith Breedlove, who runs his Culinerdy Cruzer food truck in Sacramento, CA.
If you aren't familiar with Keith, this guy has done a little bit of everything. He's been featured on TV's "Bar Rescue," "Cutthroat Kitchen," "Man vs. Child: Chef Showdown," and "Guy's Big Backyard Bite," as well as being the Corporate Executive Chef for Tex Wasabi's and Johnny Garlic's, which are both owned by Guy Fieri. He's also been the Executive Chef for the Hilton Hotel chain.
Keith talks a bit about his New Orleans roots shining through his dishes and how he's living the dream of no rent while carrying the burden of all else attached.
It's a candid chat about food trucks, hospitality, and so much more on this week's show!
Don't forget to subscribe, rate, and review the show on iTunes and Stitcher!!!
Follow Chef Brian Duffy on Twitter and on Facebook.
Check out his website to learn more about him, to find his products, and some incredible recipes!
Also, do us a favor! Subscribe to the show on iTunes, Stitcher, TuneIn Radio, and now on Google Play and make sure to rate and review!
Podcast: Play in new window | Download | Embed