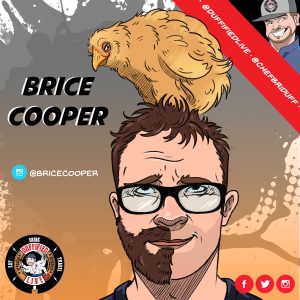 This week, Chef Brian Duffy starts out with a quick thanks to those in the back of the house and all the ladies of the kitchen. There are times in bar/restaurant industry where they have it extremely tough so it's time to show some appreciation to those in the trenches.
Chef Duffy also chats for a "brief" 90 minute conversation with Brice Cooper, host of HGTV's "Design On A Dime." He's a world traveled branding expert, interior designer, chicken owning, Harley riding, mechanically sound, GREAT dude.
The guys talk motorcycles. We're talking Harley Davidsons, BSAs, Triumphs, and BMWs as well as a long talk about service and hospitality, TV, and so much more.
Don't forget to subscribe, rate, and review the show on iTunes and Stitcher!!!
Follow Chef Brian Duffy on Twitter and on Facebook.
Check out his website to learn more about him, to find his products, and some incredible recipes!
Also, do us a favor! Subscribe to the show on iTunes, Stitcher, TuneIn Radio, and now on Google Play and make sure to rate and review!
Podcast: Play in new window | Download | Embed