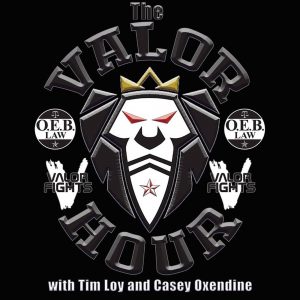 With Valor Fights 43 in the books, Tim Loy and Casey Oxendine are back for a new episode of The Valor Hour as they will let you know what happened last Saturday night in Corbin, Kentucky.
Now before they get to the official Valor Fights 43 recap, Tim and Casey answer listener questions submitted on social media and then they are joined by UMMAF Southeast Director Justin Brown (5:20) to discuss the National Championships that will be taking place at the end of this month. Following their conversation with Justin, they continue to discuss the UMMAF National Championships as they are joined by heavyweight Billy Swanson (17:28) to talk about his upcoming appearance at this event.
Then, the guys are joined by Kentucky MMA legend Scott Hope and Warrior FC President Jimbo Collins (25:49). They talk to Scott about his fight final that took place this past weekend at Valor Fights 43 and how his fight video has gone viral because of what happened at Valor Fights 43. And finally, the guys give a complete breakdown of Valor Fights 43 and Jimbo gives his thoughts on Warrior FC scoring more victories on the card than Valor Fights.
Follow Valor Fights on Twitter: @ValorFights
Follow Tim Loy on Twitter: @TzLoy
Follow Casey Oxendine on Twitter: @CaseyOxendine
Subscribe to The Valor Hour on iTunes, Stitcher, and Google Play
Podcast: Play in new window | Download | Embed