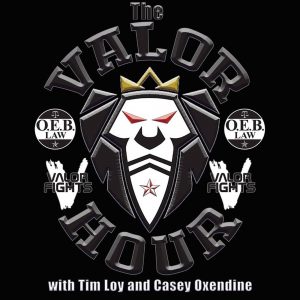 Tim Loy and Casey Oxendine are joined by cutman Mark Laws on this week's episode of The Valor Hour and the kick off the podcast by recapping what happened this past Saturday night in Nashville, Tennessee at UFC Fight Night 108.
After discussing those fights, the guys turn their attention to next week's Valor Fights 43, which will be a co-promotion event with Valor Fights and Warrior FC. First, they bring in Brandon Bell about his matchup against Jason King, Next, they talk with main event fighter Dustin Long about his fight against Ben Rowland and then they bring in David Robins to preview his fight against Ryan Driskell.
Next, the guys are joined by Brock Walker to discuss his fight against Mike Thomas on Friday at 50 Fifty Fight Night. Walker responds to comments made by Thomas on last week's podcast and what his preparations have been like for this fight. After talking with Walker, Tim and Casey talk with Garry Bell about Contender Promotions. Gary explains how he got the Contender brand started and his next event, which takes place next weekend. And in the final interview on this week's podcast, Casey talks with Helio Soneca about his recent grappling victory and the guys wrap up this episode of The Valor Hour by previewing Friday's 50 Fifty Fight Night card.
Follow Valor Fights on Twitter: @ValorFights
Follow Tim Loy on Twitter: @TzLoy
Follow Casey Oxendine on Twitter: @CaseyOxendine
Subscribe to The Valor Hour on iTunes, Stitcher, and Google Play
Podcast: Play in new window | Download | Embed