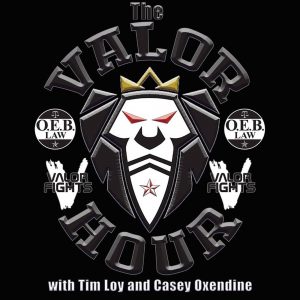 Valor Fights 41 took place this past Saturday night and get a recap of the event on this week's episode of The Valor Hour as Valor Fights President Tim Loy and color commentator Casey Oxendine are joined by Valor Fights staff writer Allen Poole to breakdown the event.
After going through all of the fights that took place last weekend at Valor Fights 41, the guys are joined by five fighters who walked out of Valor Fights 41 with victories. First, they welcome in the new Valor Fights bantamweight champion Dylan Cala as he recaps his victory over Chris Wright in the main event of the fight card.
Next, Kobe Wall comes on the podcast to discuss his triangle choke submission victory over Zach Cook to remain undefeated in his young career. Then, Luis Pena jumps on the show to recap his victory over Damir Ferhatbegovic in the co-main event of the fight card.
After hearing from Pena and the potential of having Wall and Pena fight in the future, the guys bring in Jason King to discuss his stoppage victory over David Suter. And in the final interview of this week's podcast, Chase Boutwell comes on the breakdown his submission victory on the amateur portion of Valor Fights 41.
Follow Valor Fights on Twitter: @ValorFights
Follow Tim Loy on Twitter: @TzLoy
Follow Casey Oxendine on Twitter: @CaseyOxendine
Subscribe to The Valor Hour on iTunes and Stitcher
Podcast: Play in new window | Download | Embed