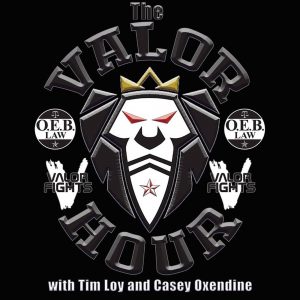 It's fight week for Valor Fights and Tim Loy and Casey Oxendine get you ready for Saturday's Valor Fights 41. The guys kick off the show by recapping what happened last weekend in MMA and give breaking news regarding Valor Fights 41 main event.
After giving the breaking news on Valor Fights 41, Tim and Casey are joined by Valor Fights 41 headliner Dylan Cala. They talk to Cala about his fight against Chris Wright and his training for this fight. Then the guys bring in Kobe Wall to preview his fight against Zach Cook and then they welcome in amateur featherweight champion Thomas Wooley, who will be defending that title against Preston Schick. Then in the final fighter interview, the guys talk to undefeated amateur Steven Stevens about his fight on Saturday against Bubba Cruz.
In the final segment of this week's Valor Hour, Tim and Casey are joined by Mark Laws to preview this weekend's MMA action. Tim, Casey and Mark give an in-depth preview of Valor Fights 35 and they also preview UFC Fight Night 107 and World Series of Fighting 35.
Follow Valor Fights on Twitter: @ValorFights
Follow Tim Loy on Twitter: @TzLoy
Follow Casey Oxendine on Twitter: @CaseyOxendine
Subscribe to The Valor Hour on iTunes and Stitcher
Podcast: Play in new window | Download | Embed