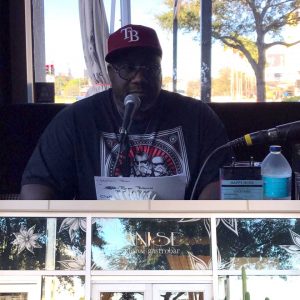 Ian is back in the 813 at Anise Gastropub in Downtown Tampa giving you some "Flava In Ya Ear."
This week, Ian is joined by "Mr. Tampa" Greg Wolf. You may know him as the in house host of the Tampa Bay Lightning and the USF Bulls but you may not have known that he is also one of the masterminds behind Street Laced Marketing & Promotions.
These two hit on everything from all the great events and venues in the Tampa Bay area, phenomenal places to chill in South Tampa, the impact Tampa Bay Lightning owner Jeff Vinik has had on the Tampa Bay community, dealing with kids and millennials, President Trump, and so much more.
The guys also chat with Chef Ian Trommer and Ryan Brown of Anise Gastropub as they taste test the incredible food Anise always serves up! Check out their Facebook page for a list of all the events they have coming up!
Follow Ian Beckles on Twitter and on Facebook.
For more information as to what Ian is up to, check out DignitaryRadio.com.
Subscribe to the show on iTunes and Stitcher and don't forget to rate and review the show!
Podcast: Play in new window | Download | Embed