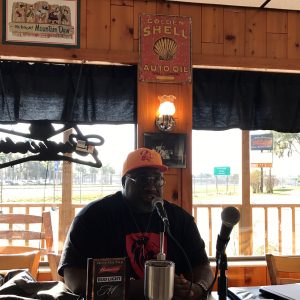 In this first episode of "Flava In Ya Ear," Ian Beckles is joined by his former Tampa Bay Buccaneers teammate and three-time NFL Pro Bowl center Tony Mayberry along with Kathy Suzewits, aka "Rollergirl" from "On The Beach," at Smokin' Aces BBQ in Plant City, FL for the debut episode.
The trio discussed everything from the upcoming Super Bowl to Donald Trump's first few weeks as President to the earth shattering news that Beyonce is pregnant with triplets. If she and Jay-Z named their first born "Blue Ivy," what the hell are they going to name twins?????
Ian hits on all of that plus tells you what to expect from his new podcast all on this debut episode of "Flava In Ya Ear!"
Thanks to Smokin' Aces BBQ in Plant City for hosting the show this week! If you're in the Plant City area, you can find them at 2509 N. Park Rd right across the street from Stingray Chevrolet!
Follow Ian Beckles on Twitter and on Facebook.
For more information as to what Ian is up to, check out DignitaryRadio.com.
Subscribe to the show on iTunes and Stitcher and don't forget to rate and review the show!
Podcast: Play in new window | Download | Embed