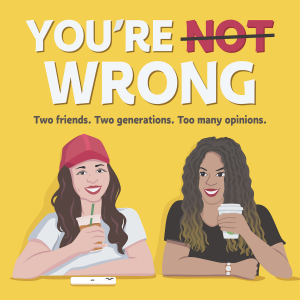 In this February Dating Edition, the ladies welcome a special guest Ms. Raena Boston of The Working Momtras (@theworkingmomtras). She discusses whether women can have it all before Nicole leads everyone into a Gen X file on strange Valentine's Day stories.
Thanks for listening! If you liked what you heard, make sure to rate, review, and subscribe. If you want more from us make sure to follow us on Twitter and Instagram @thenotwrongpod.
Subscribe, Rate, and Review to "You're Not Wrong" on Apple Podcasts, Spotify, iHeartRadio, Stitcher, or Google Podcasts.
Podcast: Play in new window | Download | Embed