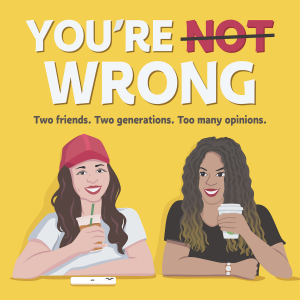 This week for another spooky episode, Nicole and Elisabeth dive into the dreamworld with two stories that may haunt you in your sleep.
First, Elisabeth tells Nicole the story of Dear David, the Twitter thread that took on a life of its own. Then, Nicole brings on the nostalgia with a story of her first scary movie in theatres – Nightmare On Elm St 3: Dream Warriors.
Thanks for listening! If you liked what you heard, make sure to rate, review, and subscribe. If you want more from us make sure to follow us on Twitter and Instagram @thenotwrongpod.
Subscribe, Rate, and Review to "You're Not Wrong" on Apple Podcasts, Spotify, iHeartRadio, Stitcher, or Google Podcasts.
Podcast: Play in new window | Download | Embed