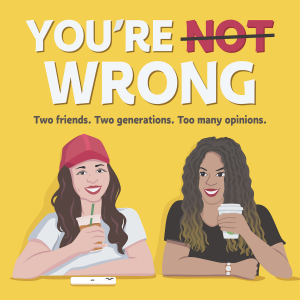 This week for another spooky episode, Nicole and Elisabeth briefly dissect TikTok's Couch Guy before getting into some spooky stories.
Nicole shares sleepover nostalgia from the 80's and '90s and the fateful night she got rid of her My Buddy. Then, Elisabeth gives Nicole a recap on her generation's internet myth Slenderman, and how a fairy tale turns into so much more.
Finally, two end the show with a listener review.
Thanks for listening! If you liked what you heard, make sure to rate, review, and subscribe. If you want more from us make sure to follow us on Twitter and Instagram @thenotwrongpod.
Subscribe, Rate, and Review to "You're Not Wrong" on Apple Podcasts, Spotify, iHeartRadio, Stitcher, or Google Podcasts.
Podcast: Play in new window | Download | Embed