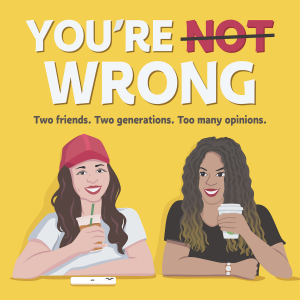 This week Elisabeth and Nicole discuss COVID (shock), then head into body positivity and whether this is just a millennial issue, or if Gen X dealt with it, too. Finally, they run down on the H3H3 suspension on YouTube and who the hell Keemstar is.
Thanks for listening! If you liked what you heard, make sure to rate, review, and subscribe. If you want more from us make sure to follow us on Twitter and Instagram @thenotwrongpod.
Subscribe, Rate, and Review to "You're Not Wrong" on Apple Podcasts, Spotify, iHeartRadio, Stitcher, or Google Podcasts.
Podcast: Play in new window | Download | Embed