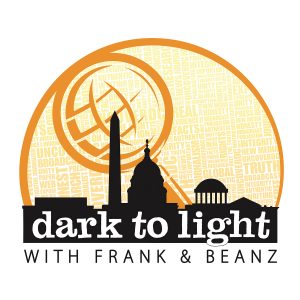 Today, Beanz warned Frank that she's been spread thin a bit and would need some stand-in on show prep. What happened? Toobin happened.
The pair talks about the blatant double standard, and shifts into a serious conversation about critical race theory and also New Hampshire Election Fraud.
A raucous good time today on the Dark to Light Podcast!
LINKS WE DISCUSSED
UncoverDC.com: Election integrity – NH voters rally for statewide audit
UncoverDC.com: Brave Loudoun County citizens raise Hell over CRT
Rumble.com: The poison in our schools
QuiteFrankly.tv: Crouching emoji, hidden demon
Follow Tracy Beanz on Gab, CloutHub, her Linktree, and make sure to subscribe to her YouTube channel and check out her newest venture, UncoverDC.com! 
Click here if you'd like to support UncoverDC.com!Follow Frank on Twitter, subscribe to his YouTube channel, and follow his solo podcast, Quite Frankly! Click here if you'd like to support Quite Frankly!
Also, don't forget to check out and follow the Dark To Light Telegram Room! (https://t.me/DarktoLightPodcast)
Subscribe to Dark To Light With Frank & Beanz on Apple Podcasts, Stitcher, TuneIn Radio, Google Play, the iHeartRadio app, and now on Spotify!
Podcast: Play in new window | Download | Embed