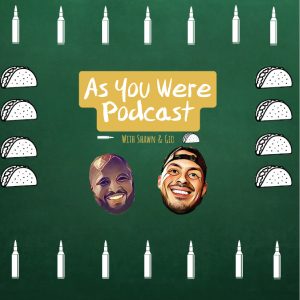 Shawn and Gio discuss having your brothers in arms back during trying times. When someone is hurting and truly being there for that person. How would military members of the past survive in today's military?
Thanks for listening to this episode of the As You Were Podcast and if you have a comment for a future episode, leave a comment below and show your support for the show by leaving a rating and review on Apple Podcasts.
Subscribe, Rate and Review to "As You Were Podcast" on Apple Podcasts, iHeartRadio, Spotify, Stitcher, Google Podcasts, or TuneIn Radio.
Podcast: Play in new window | Download | Embed