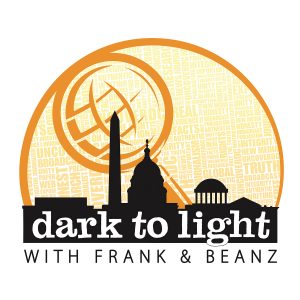 It's the Monday after Easter Sunday and Tracy is off on vacation so Frank is in to skip through some headlines and drain the brain a little bit on what is going to be a week filled with shorter, sweeter engagements. Strong Republican voices targeted one by one, the George Floyd trial is set to cause havoc, and a growing level of pandemic defiance around the world makes one wonder how the screws will be tightened next.
Follow Tracy Beanz on Gab, CloutHub, her Linktree, and make sure to subscribe to her YouTube channel and check out her newest venture, UncoverDC.com! 
Click here if you'd like to support UncoverDC.com!Follow Frank on Twitter, subscribe to his YouTube channel, and follow his solo podcast, Quite Frankly! Click here if you'd like to support Quite Frankly!
Also, don't forget to check out and follow the Dark To Light Telegram Room! (https://t.me/DarktoLightPodcast)
Subscribe to Dark To Light With Frank & Beanz on Apple Podcasts, Stitcher, TuneIn Radio, Google Play, the iHeartRadio app, and now on Spotify!
Podcast: Play in new window | Download | Embed