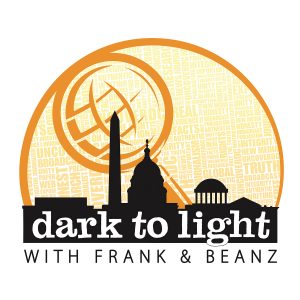 It is the first show of the New Year and we go over the perfect call that President Trump had with the Secretary of State in Georgia. We also talk about the COVID rebellion and more shenanigans going on across the country. A-Women? Really?
Do not miss the first show of the New Year with Frank and Beanz.
LINKS WE DISCUSSED
Sam Braslow Twitter: A group of anti-maskers protest
Washington Examiner Twitter: Congress opens with a prayer that ends in "Amen…..and a woman"
Follow Tracy Beanz on Twitter, subscribe to her YouTube channel, and check out her newest venture, UncoverDC.com!
Follow Frank on Twitter, subscribe to his YouTube channel, and follow his solo podcast, Quite Frankly!
Subscribe to Dark To Light With Frank & Beanz on Apple Podcasts, Stitcher, TuneIn Radio, Google Play, the iHeartRadio app, and now on Spotify!
Podcast: Play in new window | Download | Embed