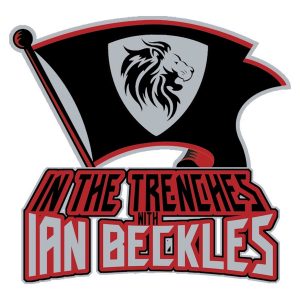 The Tampa Bay Buccaneers are one win away from securing a playoff berth following the victory over the Atlanta Falcons on Sunday and Ian shares his thoughts on the win in this edition of In The Trenches.
This episode of In The Trenches is presented by fuboTV. Want to cut the cord, but you're worried about missing out on live TV? Get the best of both worlds. With fuboTV, you can watch live and on-demand, with no bulky set-top box. There's no risk to try it out—get full access to fuboTV for a few days for FREE. And right now, FuboTV is offering our listeners the free trial AND 15% off your first month by going to fubotv.com/BECKLES. There are no contracts and you can cancel anytime.
Make sure to check out BetUS! BetUS is the pioneer of online betting with more than 25 years in the business. With that much longevity comes integrity so you never have to wonder if you'll get paid. BetUS is a sportsbook that offers everything including live betting, MMA, golf, horses, e-sports, the crazy prop bets that everyone loves, and so much more. Visit BetUS.com and in the "How'd You Hear About Us?" box, type IN THE TRENCHES and get up to 150% in bonuses on your first deposit!
Subscribe, Rate, and Review the podcast on Apple Podcasts, Stitcher, Google Play, TuneIn Radio, iHeartRadio app, and now on Spotify!
Have a question for Ian, send an email to IanBeckles@RadioInfluence.com.
Follow Ian on Twitter @IanBeckles and on Instagram @Ian_Beckles
Podcast: Play in new window | Download | Embed