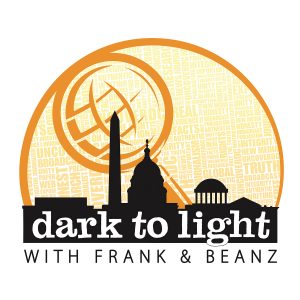 It is a very busy show today (in more ways than one) with Frank and Beanz playing some election clips, listening to a bit of the hearings, talking about Barr and Durham, and sharing some information with you in regards to what comes next in this crazy world of politics.
Please be sure to check the show links and also a big thanks to Better Help!
Today's episode of the Dark To Light Podcast is sponsored by BetterHelp. It's not self-help. It's professional counseling. BetterHelp will assess your needs and match you with your own licensed professional therapist with whom you can connect in a safe, private, and convenient online environment. BetterHelp's licensed counselors specialize in depression, stress, anxiety, trauma, grief, self-esteem, LGBT matters, and so much more. Visit BetterHelp.com/darktolight to get 10% off your first month and join over 1,000,000 people who have taken charge of their mental health.
LINKS WE DISCUSSED
AP: Barr appoints special counsel in Russia probe investigation
AP: Disputing Trump. Barr says no widespread election fraud
Follow Tracy Beanz on Twitter, subscribe to her YouTube channel, and check out her newest venture, UncoverDC.com!
Follow Frank on Twitter, subscribe to his YouTube channel, and follow his solo podcast, Quite Frankly!
Subscribe to Dark To Light With Frank & Beanz on Apple Podcasts, Stitcher, TuneIn Radio, Google Play, the iHeartRadio app, and now on Spotify!
Podcast: Play in new window | Download | Embed