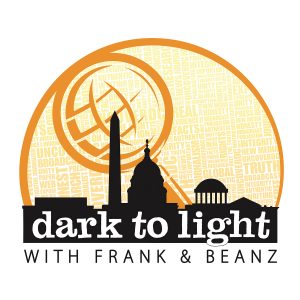 It is one heck of a show today as Tracy Beanz of UncoverDC.com does a solo interview with Patrick Byrne, the former CEO of Overstock.com, who tells his story long form in an hour-long conversation you DO NOT want to miss. Patrick was kind enough to agree to come back this Friday to answer questions and talk more with us. We are encouraging people to send their questions to info@uncoverdc.com for consideration.
Make sure to head over to Patrick's blog, entitled "DeepCapture."
Also, make sure to support Frank and the Quite Frankly show. It's getting very serious out there, and everyone needs to support people they love.
Follow Tracy Beanz on Twitter, subscribe to her YouTube channel, and check out her newest venture, UncoverDC.com!
Follow Frank on Twitter, subscribe to his YouTube channel, and follow his solo podcast, Quite Frankly!
Subscribe to Dark To Light With Frank & Beanz on Apple Podcasts, Stitcher, TuneIn Radio, Google Play, the iHeartRadio app, and now on Spotify!
Podcast: Play in new window | Download | Embed