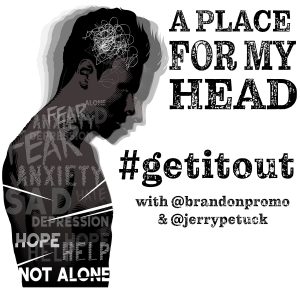 This week on A Place For My Head, Brandon Thompson and Jerry Petuck go across the pond to the United Kingdom to chat with Katia Bell, a psychological well-being practitioner. Katia shares her own story of what it was like growing up with a father who dealt with clinical depression, how it led to her also being diagnosed with depression, her own battles with self-harm, suicidal thoughts, panic attacks, and hitting rock bottom.
Then, she talks about how the book "Things Get Better" by Katie Piper changed her perspective and her life and how she uses her own experiences to help others dealing with the same issues.
She an incredible person that you'll absolutely love with an even more incredible story.
Thanks for listening!
If you feel you are in crisis, please call the National Suicide Prevention Lifeline at 1.800.273.TALK (8255).
Follow us on social media:
A Place For My Head: Website Facebook
Brandon Thompson: Facebook Instagram Twitter
Jerry Petuck: Facebook Instagram Twitter
Make sure to visit the A Place For My Head website!
Subscribe, rate, and review A Place For My Head on Radio Influence, Apple Podcasts, Stitcher, TuneIn Radio, Google Podcasts, iHeartRadio, and now on Spotify!
Podcast: Play in new window | Download | Embed