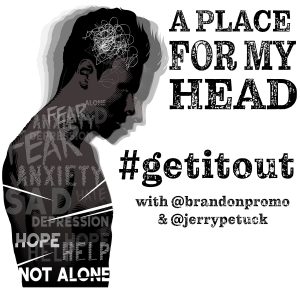 This week on A Place For My Head, Brandon Thompson and Jerry Petuck are joined by Drew Garabo, afternoon drive host on 102.5 The Bone in Tampa.
The guys discuss the radio business, trying to pick yourself up after losing a gig and losing faith, the COVID-19 pandemic, the importance of finding closure and forgiveness, and honestly….. just dealing with life.
It's a great conversation with an even better guy. Make sure to check him out weekdays 2-6p!
Thanks for listening!
If you feel you are in crisis, please call the National Suicide Prevention Lifeline at 1.800.273.TALK (8255).
Follow us on social media:
A Place For My Head: Website Facebook
Brandon Thompson: Facebook Instagram Twitter
Jerry Petuck: Facebook Instagram Twitter
Make sure to visit the A Place For My Head website!
Subscribe, rate, and review A Place For My Head on Radio Influence, Apple Podcasts, Stitcher, TuneIn Radio, Google Podcasts, iHeartRadio, and now on Spotify!
Podcast: Play in new window | Download | Embed