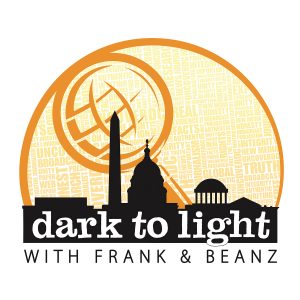 The Friday show gives you a little extra content today, as we start by talking about the information from Bill Barr on Hannity last night, dissect that a bit, and then get into the lawsuit filed in SC regarding mail-in voting.
From there, we move to Kamala Harris and Joe Biden, and then we explore how the media is treating homegrown Americans taking the initiative to run for Congress. Spoiler Alert: One letter of the alphabet features prominently. BUSY SHOW!
Links mentioned in this episode
– UDC Article on Mail in Voting
– Good Morning America Takes on Q https://twitter.com/GMA/status/1294237049080479744
– Marjorie Taylor Greene
Follow Tracy Beanz on Twitter, subscribe to her YouTube channel, and check out her newest venture, UncoverDC.com!
Follow Frank on Twitter, subscribe to his YouTube channel, and follow his solo podcast, Quite Frankly!
Subscribe to Dark To Light With Frank & Beanz on Apple Podcasts, Stitcher, TuneIn Radio, Google Play, the iHeartRadio app, and now on Spotify!
Podcast: Play in new window | Download | Embed