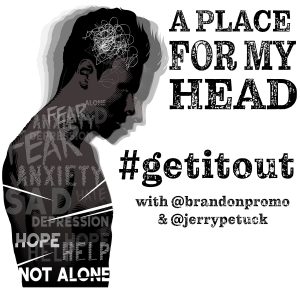 This week on A Place For My Head, Brandon Thompson and Jerry Petuck discuss a serious issue within the law enforcement community and that's PTSD. Former police officer/911 dispatcher Jamie Gonzalez, a long time friend of Jerry's, is featured in the upcoming documentary PTSD 911, where she shares her experience as both a dispatcher and a cop that ultimately led to her resignation.
This is quite possibly the most powerful episode of A Place For My Head yet and we thank Jamie for being so open and honest about her life experience as she opens up and shares stories she's never shared publicly before.
Check out the trailer for "PTSD 911" below:
PTSD911 Official Trailer from ConjoStudios, LLC on Vimeo.
If you feel you are in crisis, please call the National Suicide Prevention Lifeline at 1.800.273.TALK (8255).
Follow us on social media:
A Place For My Head: Website Facebook
Brandon Thompson: Facebook Instagram Twitter
Jerry Petuck: Facebook Instagram Twitter
Make sure to visit the A Place For My Head website!
Subscribe, rate, and review A Place For My Head on Radio Influence, Apple Podcasts, Stitcher, TuneIn Radio, Google Podcasts, iHeartRadio, and now on Spotify!
Podcast: Play in new window | Download | Embed