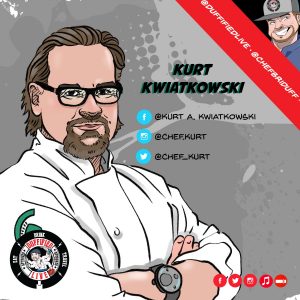 Chef Kurt Kwiatkowski and I met during an event in Sacramento where we played with Walnuts for a few days. Kurt's story is a great one. He's classically trained and is currently the Executive Chef for Michigan State University in Lansing, MI.
Chef Kwiatkowski tells stories about how they are handling being shut down, the select few people that are being fed on campus, and the sheer volume and organization that it takes to oversee such a massive operation.
Such a great time with a great guy for a great conversation!
Follow Chef Brian Duffy on Twitter and Facebook.
Check out his website to learn more about him, to find his products, and some incredible recipes!
Listen to the Duffified Live show archive on Radio Influence!
Subscribe to the show on Apple Podcasts, Stitcher, TuneIn Radio, Google Play, and now on the iHeartRadio app! Make sure to rate and review!
Podcast: Play in new window | Download | Embed